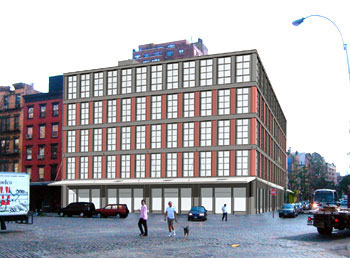 Theory now occupies a grand site in the Meat Packing District
One of the Last Great Plots in the Meat Packing District
In 2004, J. R. Daly and Sons and our partners purchased a two story Meat Packing facility that stood at the corner of Gansevoort and Ninth Avenue.
Facing north at the crossroads of Gansevoort Street, Little West 12th and Ninth Avenue, it was one of the last great plots left in the newly reborn Meat Packing District of New York City.
We tore down the Meat Packing facility and built a 6 story office building that emulated the great buildings of the turn of the century with all the amenities of a modern office building.
A Success for a Land Marked District
The Meat Packing District had recently been given Landmark status. This building at Gansevoort Street represents the first construction to test the new regulations. We worked extensively with the community to create a seamless and elegant building to beautify their neighborhood. We believe it has been a great success. The building has the look of the turn of the century style that dominates the area, and yet still has all the modern touches of a new building. J. R. Daly and Sons and our partners would like to thank the community for their help in creating this beautiful and organic addition to their neighborhood.
Theory Clothing
Theory Clothing Company, a world renowned Women's Clothing Retailer, saw the potential of this site and decided to make this building their New York City Headquarters. They will have a full clothing boutique on the ground floor and offices on all the floors above. Construction of the interior is still ongoing.