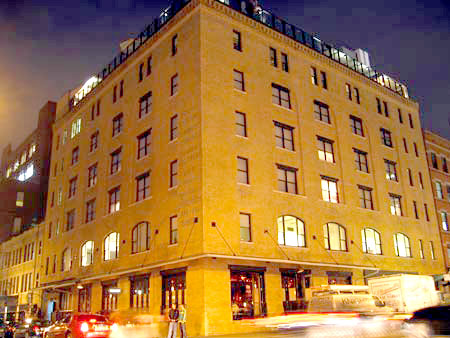 The SoHo House and Spice Market lit up on a Thursday Night.
A British Institution Moves to Manhattan
In 2001, The SoHo House of London decided to bring the the British Private Club concept that has become an institution in London, to Manhattan Island.
J. R. Daly and Sons showed them a 100 year old warehouse in the Meat Packing District, on 9th Avenue between 13th and 14th Streets. It would be their new home in New York.
The Meat Packing District has become a destination for New York dining and night life. What was once old, disused buildings is being transformed into a rebirth of cool. Some of the best hotels, nightclubs and restaurants are vying to open doors in the Meat Packing District. On a weekend in the summer, thousands of young people crowd the streets, in an area once thought to be untouchable only 6 years ago.
The SoHo House Hotel Rooms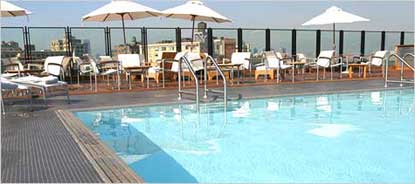 The SoHo House's Pool on the Roof.
Since opening its doors, the SoHo House has been a great success. Their hotel rooms are few in number, but some of the most exciting hotel rooms anywhere in the city.
They are designed to be like home. But what a cool home.
The best rooms are equipped with grand old four poster beds with plasma screens hanging at their feet. A giant, stone Boffi tub sits in the middle of living area and entertainment center with a 60 inch plasma, super high end stereo and bottles of champagne hangs on the wall.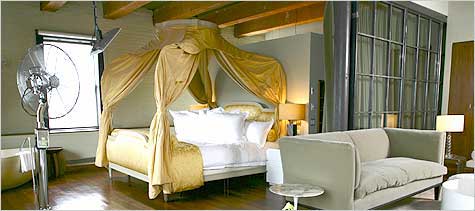 The Rooms at the SoHo House are some of the coolest in NYC
The SoHo House in addition created a pool area on the roof, complete with large chaises and giant hammocks. On a sunday afternoon in the summer, the roof is packed with New York's cool set.
The Hotel also has a full spa, gym and an exquisite screening room, which always has movies.
Jean-Georges' Spice Market
Not to be forgotten, Jean-Georges Vongeritchen opened a sensational restaurant in the ground floor of this building called: The Spice Market.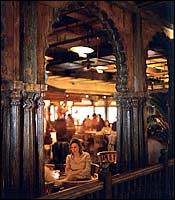 After a Buddhist Temple was partially destroyed in India, Jean-Georges took what was left, and rebuilt it in the heart of the Meat Packing District of New York City–in the ground floor of 35 Ninth Avenue. It was an amazing feat, only rivaled by its amazing cuisine. When you eat at The Spice Market you are transported through time.
Click Here to read the NY Times review of The Spice Market.
Thank you to all our partners. And to our tenants, continued success.