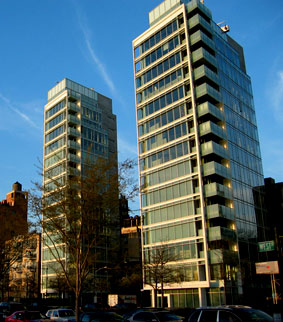 Richard Meier's Perry Street Apartments
J. R. Daly & Sons is also a property owner and developer. By acquiring and renovating space around the New York City region, we are rejuvenating areas through innovative design. Our main area of concentration is New York City, where we are partners in several major projects:
Richard Meier's Perry St.: Two 15 story glass buildings have been completed to much acclaim at 173 and 176 Perry Street. With views of the Hudson River and design by Richard Meier, the Perry West has become of one of New York City's most recognizable buildings. The units are single floor residences of 2,000 and 4,000 sq. feet.
SoHo House New York is a 100 year old warehouse in the Meat Packing District that is has been converted into the private members club The Soho House, in addition to a Jean-Georges Vongericten restaurant called Spice Market.
Theory Clothing Headquarters is the New York City Headquarters of the Fashion Company Theory. It is located 2 blocks south of the Soho House, and occupies one of the last great sites in the Meat Market District. Under consultation with the community, the partnership created an elegant building, reminiscent of the turn of the century style of New York architecture.
We have developed these properties through partnerships, and Mr. Daly would like to personally thank all his partners.